Railroad Gulch
Browns Canyon National Monument
Hiker on the edge of Railroad Gulch. Photo Wendell Day
Wild Connections and Friends of Browns Canyon (FBOC) hosted a climate resiliency educational hike at Stafford and Railroad Gulches, the
southern boundary of the 21,589-acre Browns Canyon National Monument (BCNM). BCNM and the Railroad Gulch area to the south were identified by Rocky Mountain Wild as being one of the "Best" areas for Climate Refugia. These are areas that have "cold air pools" and are expected to support
biodiversity, a healthy natural variety of animal and plant species that will persist as the climate changes.
North Fork Trail South Platte River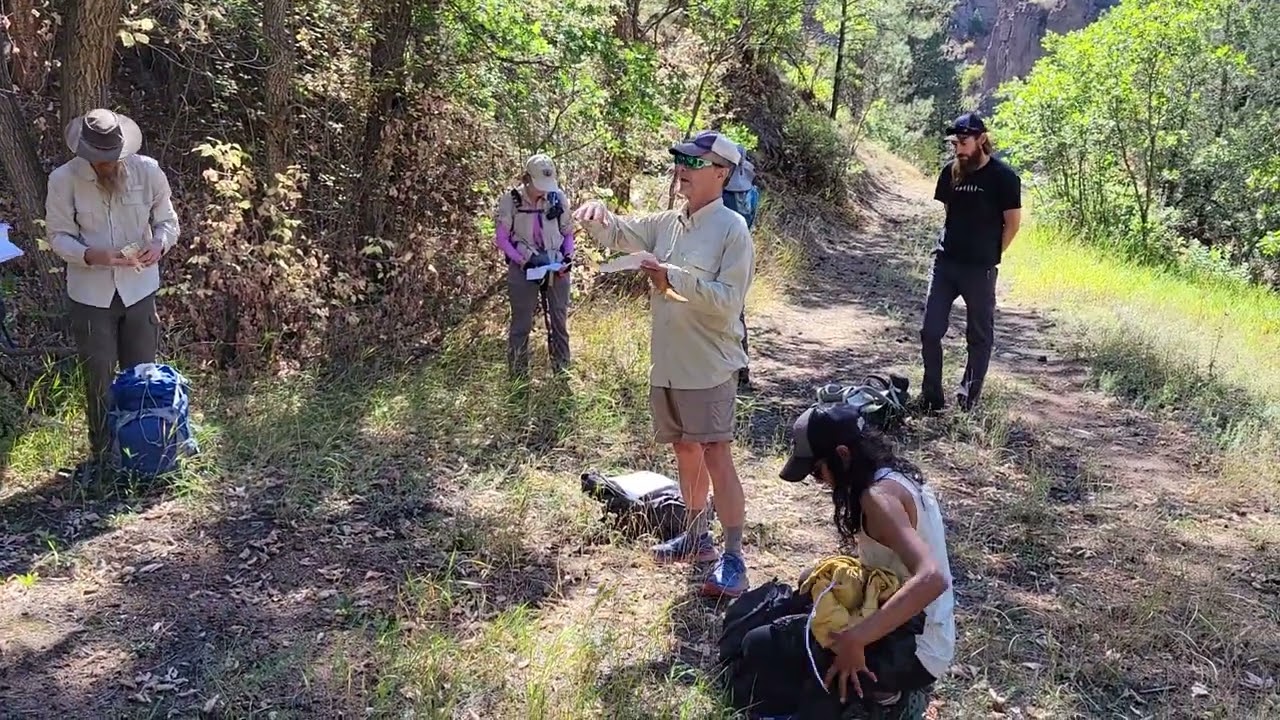 Karl Ford led a climate education hike on the North Fork Trail along the S Platte River. Data loggers that record high and low temperatures were recovered. Data loggers are one tool in the search for cold air pools that may foster long term biodiversity as the climate changes.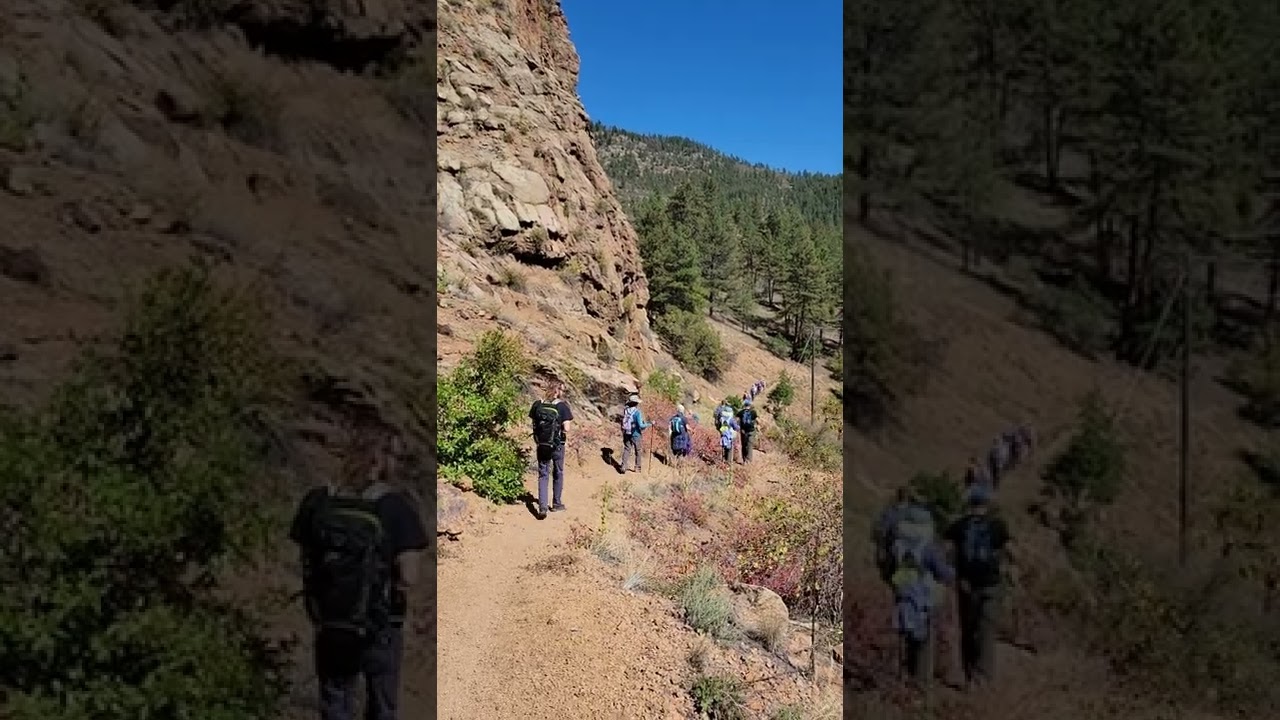 Colorado Experience: Forests of Change (PBS)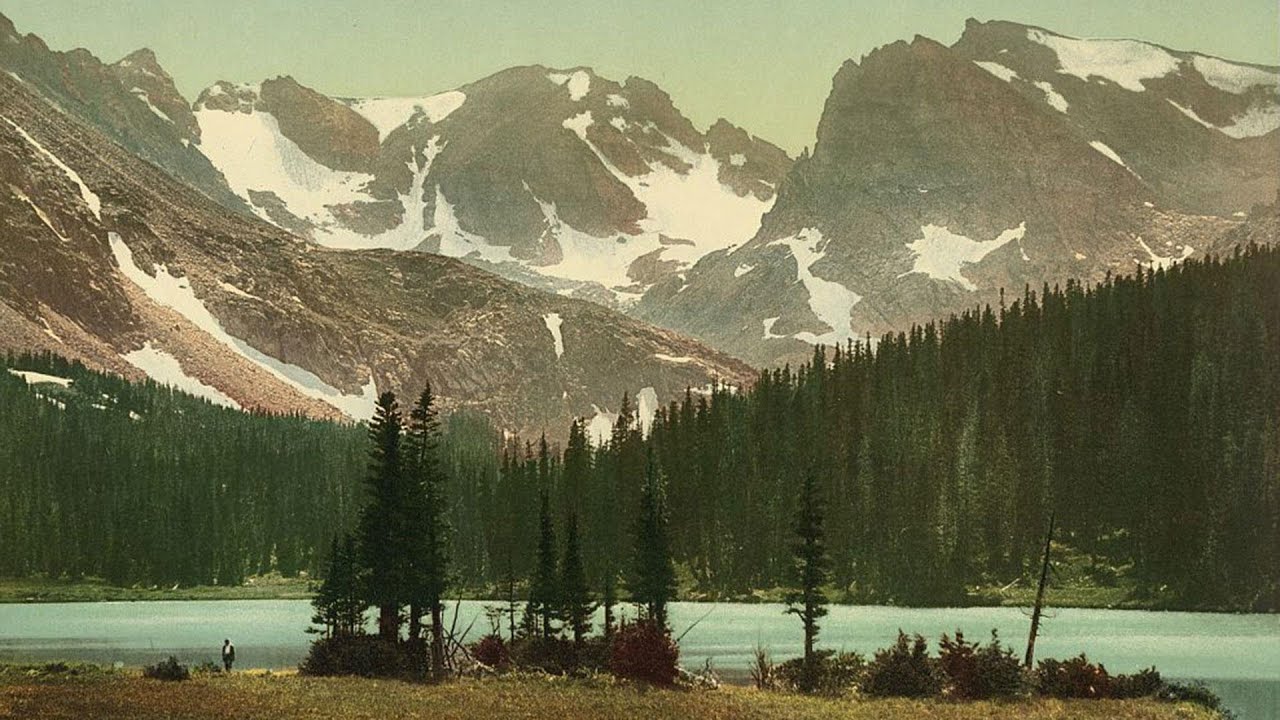 Clarissa Guy, one of Rocky Mountain PBS'
Colorado Experience
videographers, co-hosted this webinar with John Stansfield from Wild Connections. View the video below or go directly to RMPBS for a high defintion view with closed captioning.
The video describes how "humans have had a relationship with forests for eons. But today, Colorado's forests are changing, potentially altering this intrinsic connection. Follow scientists and historians as they work to understand this transformation. Decipher tree rings, analyze aerial imagery, and learn of Colorado's long history to unroot the causes and consequences of Colorado's changing forests."
Wild Connections' Corridors and Refugia Modeling Project
We are looking for some answers in a multi-year climate change modeling project.
The draft modeling results are being cirulated to climate experts and land managers. Their input will be incorporated in the final model.
Which areas will be the most resilient to withstand the changes in our climate?

Which will provide enough space unaffected by human activity for summer and winter range, for birthing and migration?

Which will provide enough time – decades and longer – for plants and animals to exercise their innate ability to adapt to changing conditions?

Where will rare species of wildlife, from lynx to butterflies, have the best chance to flourish?
Major components are diplayed here. Map Alison Gallensky
Are you interested in the technical details of the modeling data and aproaches? Download the Summary.
In April 2022 we hosted a joint session with Rocky Mountain Wild on Protecting Climate Resilient Lands at the CPW Partners in the Outdoors conference in Vail. Alison Gallensky shared results of our joint work on resilience in a time of climate change.
Average temperatures have risen since the 1950's and many areas are experiencing decades long drought. Map, Universe Today
Colorado, North America and the whole planet are experiencing mega drought or unprecedented flooding, record heat or record cold and loss of snowpackand polar ice caps. Climate change is one of the drivers of these unprecedented events.
The World Meteorological Organization's report of Janaury 2023 highlights global findings.
Global Mean temperature has risen 1.15 C degrees compared to the pre-industrial average.
CO2 has increased 24.0 ppm in the last 10 years. .
Right now is a decisive time for our wildlife, forests, canyons and meadows. Wildlife and even plant life are on the move as changing climatic conditions force them to shift locations to maintain their preferred habitat.
Climate modeling identifies areas deserving protection. Map Alison Gallensky
Movement of animals in response to changing conditions is often impeded by
man-made barriers: r
oads, commercial developments, areas that have been intensively logged, mined, or drilled for oil and natural gas; and simply by an intensified human presence on the land as our state population grows. However, central Colorado is fortunate to have many large roadless areas that are potential havens for nature, for biodiversity, for fully functional ecosystems, for our native plants and animals.