Projects Across the Region
Restoration projects are staged in or adjacent to roadless areas, Wilderness or locations of high biodiversity. Partners include the U S Forest Service, Bureau of Land Management, regional conservation groups and volunteers.
Map Alison Gallensky, Wild Connections
A beaver swimming in the pond created by the installation of an Analog Beaver Dam. Photo KEI
Do you know where there are beaver dams in the Fountain Creek watershed?
If you, or anyone you know, is aware of any active or inactive beaver dam sites in Fountain Creek watershed please contact John Stansfield by email
jorcstan@juno.com
or
(303) 660-5849
(land)
(720) 732-9511
(cell) Wild Connections is checking sites for potential construction. Your help in locating potential sites is invaluable. Boots and eyes on the ground is a win for future wetlands and beaver pond restoration.
wildcat Canyon
2016 - Ongoing
Hikers rest after a long walk down to the South Platte River in Wildcat Canyon. Photo Curt Nimz
The South Platte River downstream of Lake George to Cheesman Reservoir cuts this 1,200 foot deep gorge east of Lost Creek Wilderness.This 7.3 mile stretch of the river was largely spared in the devastating 2002 Hayman Fire and is now one of the few healthy habitats in the Hayman burn area for large mammals, birds of prey, migrating songbirds, and wild trout.
Wild Connections is working with other stakeholders and the Forest Service to devise a multi-year restoration plan.
Removing post and cable from streamside willows along the S Platte River. Photo USFS
Removal and stockpiling of old posts and cable was completed in fall 2022. This sets the stage for environmental and cultural assessments and major planning in 2023.
Truck playing in the South Platte River at Corral Creek - this route down to the river is closed to motorized use. Photo John Stansfield
Rampant illegal OHV travel on long-closed roads on both the east and west sides of the canyon and vehicles playing in the South Platte River and Tarryall Creek continued unabated after the Hayman fire.
The new Pike-San Isabel Travel Management Plan confirmed the decomissioing of old routes from the east and west uplands to the river bottom. This sets the stage for future restoration across the area.
Farnum Peak, Packer Gulch, N Farnum
2015, 2017, 2022
Volunteers preparing routes for seeding on a Farnum workd
ay. Pho
to Deb Overn
Farnum and Schoolmarm Roadless Areas southwest of Lost Creek Wilderness are important wintering and calving habitat and migration routes for area wildlife.
In 2022 the N Farnum route 233 was barricaded and the large dumping and illegal dispersed camping area was cleared of garbage. More permanent restoration is planned for 2023.
Route 233 closure. Photo USFS
By 2018 the Farnum route was revegetated. Photo John Sztukowski
Farnum and Schoolmarm Roadless Areas were reconnected in 2015 and 2017 by obliterating 1.5 miles of illegal ATV tracks and closing three illegal motorized routes leading from Packer Gulch into the Farnum Roadless Area.
The old trailhead was securely closed and is revegetating. Photo John Stansfield
Rock Creek at the Ben Tyler trailhead into the northwest corner of Lost Creek Wilderness was damaged by decades of motorized use and camping. The Forest Service, Trout Unlimited and our volunteers relocated the trailhead, established a new parking area and revegetated 2 miles of closed road segments.
Rock Creek is the future home of Greenback cutthroat trout. Photo John Stansfield
This work paves the way for a multi-year project to reintroduce the greenback cutthroat trout into Rock Creek.
Greenback Curtthroat Trout, once widespread in the Arkansas and South Platte River drainages of Eastern Colorado and Southeast Wyoming, today occupies less than 1% of its historical range. It is currently listed as threatened under the Endangered Species Act.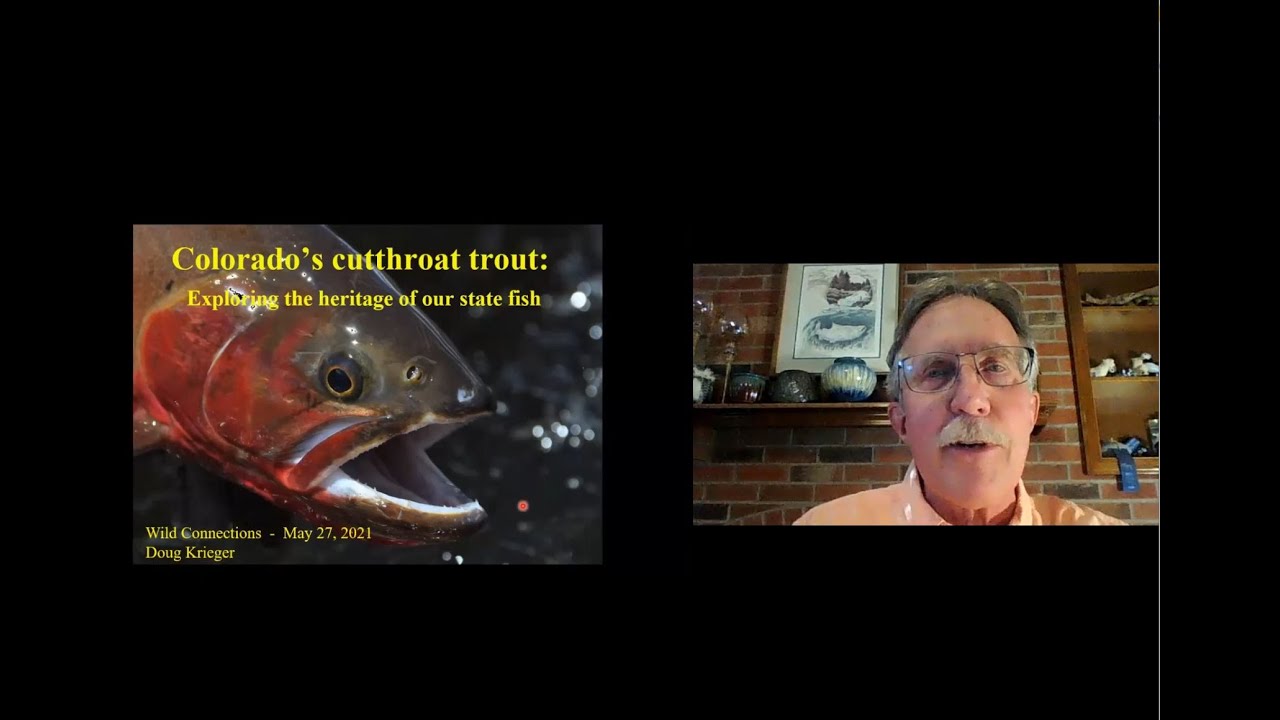 Doug Krieger, former CPW wildlife program manager, tells a fascinating story of the S Platte's Greenback Cutthroat Trout.
Green Mountain Monitoring 2020
The route that led to the wet meadow has disappeared after years of regrowth. Photo Misi Ballard
The Green Mountain project of 2011 is monitored regularly. The most recent trip in 2020 reported "
Excellent revegetation and road restoration which would make it hard to tell in many places where the road ran, except for the wood laid across the old roadbed. Solid grass cover in many places. Some young evergreens already growing up in the roadbed."
Some mud-bogging holes were left for elk wallows. Photo Misi Ballard
"Grass in the meadow is very lush and dense, cinquefoil is growing back. There are still some mud-bogging holes... [that] seem to be being used as elk-wallows." At more than 14,000 acres, Green Mountain is secure widlife habitat spanning the land fr
om highe
r elevations in Lost Creek Wilderness on the west to the South Platte River on the south and east.
Post and cable fences prevent motorized use on the closed routes. Photo Claude Neumann
Volunteers from Wild Connections and staff from the USFS South Park Ranger District and the Platte Canyon Fire Department set 124 posts at three locations on LaSalle Pass. The Forest Service then installed the heavy steel cable and ripped the hard-packed road beds behind the barriers. Volunteers seeded and mulched 1,150 feet of the old road beds with native grasses.
In spite of a very dry summer, the grasses are taking hold in the closed route bed in October 2021. Photo John Stansfield
The closures protect the golden eagles, bald eagles and American peregrine falcons that frequent the cliffs near the Pass. These raptors have been adversely affected by human presence and noise from motorized traffic.
Drill toting volunteers secured decking boards. Photo Barry Ballard
The water supply for Fairplay was flooded by beavers, inundating a trail into the forest. Wildlands Restoration Volunteers and the Forest Service hammered pylons into the marsh to support this ADA compliant boardwalk.
Section of the boardwalk and steps to the Forest Service
trail. Photo Misi Ballard
Wild Connections recruited volunteers to install deck planking and reconstruct the trail connecting the boardwalk with the Forest Service trail.
This moose was an early morning visitor to the volunteer's campsite above Sheep Creek. Photo Misi Ballard.
Quiet was restored for wildlife in the headwaters of Sheep Creek in the Weston Pass Roadless Area. The route was obliterated by Wild Connections and Wildlands Restoration volunteers in partnership with the Forest Service.
Packing straw mulch to the site. Photo Misi Ballard
A strenuous hike with heavy packs took volunteers over Breakneck Pass to the site where they camped overnight and then seeded and mulched the closed route.
Selkirk Basin & N Tarryall
2016, 2018
Erosion mat covers the scarified and seeded illegal route. Photo Wild Connections
The headwaters of North Tarryall Creek rising on the Hoosier Ridge roadless area and flowing through the Selkirk valley support year-round habitat for area wildlife. Wild Connections, Mosquito Range Heritage Initiative, Coalition for Upper South Platte and the South Park Ranger District scarified, seeded and place erosion mat on 2.1 miles of illegal track. Off road tracks along the main road were barricaded with post and cable fences.
It takes a lot of cement for post and cable fencing. Photo Erica Henderson
T
he we
tlands and tundra of Hoosier Ridge are better protected from illegal off road motorized use.
After the Forest Service augered postholes, volunteers mixed cement and set and leveled the posts. Photo Jean Smith
Dispersed campsites across Badger Flats were causing habitat damage, expanding non-system routes and trails, and mounting trash piles.
Post and cable installation would take weeks without this auger. Photo Jean Smith
The Colorado Mountain Club and the Forest Serivce organized work days to install post and cable fences to block off routes or direct campers to the new system of designated camping areas. Wild Connections provided volunteers for the hand work.
Raking in seeds to revegetate the barren campsites and illegal vehicle tracks. Photo Deb Overn
Denuded dispersed campsites along Geneva Creek west of Mt. Evans Wilderness were scarified and planted with native grass seeds. The Forest Service felled some large trees and placed boulders to protect the streamside and meadows from motorized use. Geneva Creek is the boundary of the Burning Bear Roadless Area directly to the south.
The meadow is knee-deep in grasses and forbs six years after the restoration and no motorized tresspass was found by the monitoring team. Photo John Stansfield
Secure habitat for wildlife ranging from deer and elk to several species of bats was reconnected across more than 14,000 acres of forested land between Lost Creek Wilderness and the South Platte River corridor. A 5-acre wet meadow damaged from illegal ATV use was restored to lush grasses and seasonal ponds. 3.5 miles of decomissioned and illegal routes were seeded, covered with erosion cloth and/or slash.
Former Stony Pass access on decomissioned route. Photo Lee Patton
The original route access at Stony Pass has disappeared in regrowth of shrubs and grasses and the gate has been removed.
Trout & Eagle Creeks
2009-2010
Volunteers returning after seeding and mulching the ripped ATV tracks. Photo Jean Smith
Trout and Eagle Creeks both rise on the west side of the Rampart Range and then flow into the South Platte River near Deckers. Three roadless areas were reconnected by obliterating 7.8 miles of motorized tracks, and 335 check dams, water bars and runoff swales were built to control ersoion. An abandoned gravel pit was recontoured and planted with native grasses.
Beaver dam in Trout Creek. Photo Jean Smith
Erosion into the streams was reduced and by 2021 beavers had returned to Trout Creek, expanding the wetlands with their dams. Monitoring trips in fall of 2021 found that the old motorized tracks have faded into oblivion and the gravel pit has substantial ground cover of forbs and shrubs.